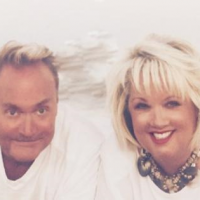 Worship Pastor Von Hohn, Worship Leader
It has always been Von's desire to reach souls for Christ, all the while, proclaiming the gospel through music, drama and song. He began playing the piano at the early age of eight, prior to his feet barely touching the pedals. In addition to his God given piano skills, his musical strengths consists of leading praise and worship, as well as adult choirs, since 1997. Von also became an ordained pastor in the spring of 2007 holding associate pastor and interim positions.
Von has been married to his wife Teresa since 1981. Together they've ministered in song for 37 years. God has extremely blessed them with three wonderful and talented children, Stephanie, Aaron and Christian who is also a worship pastor, son-in-law Justin, daughter-in-law Erin, as well as three precious grandchildren, Caitlyn, Carrington and Lennon. Their family as a whole loves the Lord and is very enthusiastic for Christ.
Von's blended style of worship is heart touching and appealing to all age groups. The fruit of this ministry is evident because of God's anointing on their lives. Von and Teresa exemplify a sincere heart for the Lord. They both love to laugh and it's evident the moment you experience their genuine sense of humor. They faithfully support each other in all aspects of life and this ministry for Christ.  It is their desire through the anointing power and presence of the Holy Spirit to see lives changed and experience the fullness and greatness of God.